Optimize Economizer Performance
Register for this training now!
Learn to effectively test, diagnose, and sell economizer improvements to customers.
More than 50% of economizers in the field are either non-functioning, disabled, installed improperly, or have never been plugged in!  In this one-day training course, you'll learn to apply practical field techniques and procedures to set up economizers, test functionality, and diagnose and repair malfunctioning units.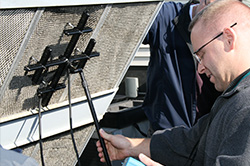 Looking to understand the in's and out's of economizer performance? Wondering how you can enter this field, or to brush up on your skills? This course will open doors to new customers and keep current customers satisfied. This advanced training will help you understand how to improve economizer performance and remedy deficiencies. Includes three hours of hands-on testing, diagnosing, repairing, and commissioning operating economizers.
Economizers are key to maintaining a buildings energy-efficiency, and optimizing an economizer will result in proven increases in efficiency and comfort.
You will also learn how to:
Perform advanced airflow and temparature measurements to calculate economizer BTUs
Determine economizer impact on energy efficiency
Use the NCI Economizer Repair Matrix to recommend and perform actions
And much more...
Who should attend?
Owners, Service Technicians, Installation Mechanics, Facility Management Personnel
Optimize Economizer Performance Overview
Introduction to economizer basics
Inspect and test economizer performance
Measure and diagnose economizer performance
How to commission an economizer
Writing, selling, and completing a scope of work
The day concludes with NCI's exclusive Certified Economizer Specialist certification exam.
Optimize Economizer Performance
SDG&E Contractor Price: $425 FREE - $95 Certification Fee**
*This special pricing is available exclusively to HVAC professionals who work in San Diego Gas & Electric's territory. Your final registration is subject to verification for discount eligibility
Upcoming Training & Events
View Training & Event Schedule
.