The NCI High Performance Summit is unlike any other industry event - focused completely on High Performance HVAC! When we gathered in Austin, TX back in March 2018, we knew that we had to find a way to allow our members a way to re-visit all the wealth of information that Summit provides. So, new this year (and included free of charge for all attendees) we're proud to present the Virtual Summit! Here on this page you can introduce your entire team to the concepts and ideas you gathered at Summit 2018, as well as re-energize yourself.

Ready to get started? Click the button below to purchase:



NCI Members: did you know that you can you use your NCI Bucks to pay for Virtual Summit (and Trailblazer Coaching)? You can! Simply mark during checkout that you want to apply some or all of your Bucks towards this purchase. If you purchase Virtual Summit 2018, we're offering you a discount to attend our online monthly Trailblazer Coaching sessions! Get pumped all year-long with this special package. What are you waiting for? Get started right now!
Start With the Opening Session Featuring Dominick Guarino, NCI CEO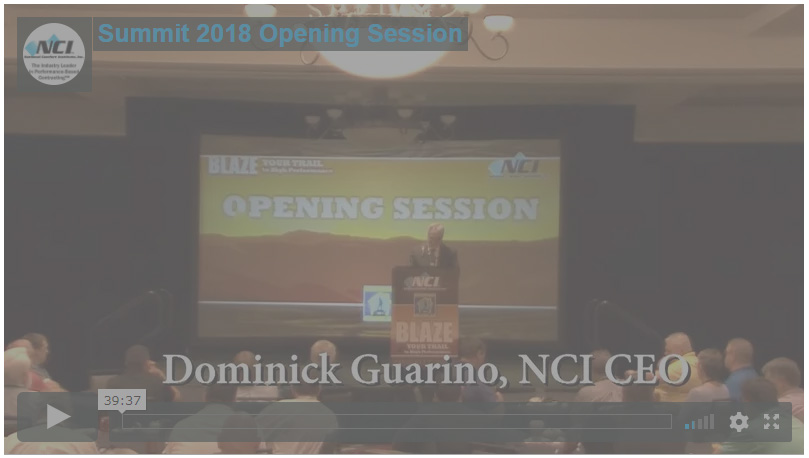 Here's some links related to the Opening Session:
Duct System Optimization • Introduction to Hydronic TAB • HVACToday.com • AirMaxx Lite App • Tools & Instruments • High Performance HVAC Alliance
Then Dive Into the Sessions:
ComfortMaxx Air™: Put It To Work!

Learn what it takes to get started putting ComfortMaxx Air to work in your company. Nathan Copeland will share how Copeland & Son AC & Heating Service uses it to help customers understand how their HVAC system is doing. He will also share how he uses ComfortMaxx Air visual reports to take static pressure testing to the next level and how these reports turn his customers into airflow detectives.

---

Productive and Profitable Duct Renovations

How do you discover duct renovation opportunities? In this session, you'll learn how DiFilippo's Service Co. not only finds opportunities, but Vince shares "the DiFilippo way" for performing them productively and profitably. He will walk you through multiple case studies and guide you through where to start, how to identify what you may need, and why your perception about how to solve airflow issues might need to change.

---

Become Your Local Carbon Monoxide Evangelist

Tom Johnson will walk you through the steps that TM Johnson Brothers used to become the "Go-to-Guy" for resolving carbon monoxide (CO) issues in his marketplace. From him you'll learn how to establish your identity, what barriers to overcome, and how to sustain the CO culture in your company. In addition, he will highlight how to develop an action plan covering what you need to know, what your team needs to do, and how to make yourself better known in your community.

Our Leap From Tradesman to Craftsman

During this workshop, Kevin Walsh, of Schaafsma Heating and Cooling Co., will discuss the many challenges he and his team faced when implementing Performance-Based Contracting™ into their 100+-year-old business. Using principles outlined in Jim Collins' book, "Good to Great," Kevin will discuss how he and his key leaders successfully rolled out this new business approach and overcame challenges at all levels of the company ��� including the very top. This is done by continuous training, measuring, and reinforcing success daily through positive feedback and sharing success stories to keep the entire team motivated.

Where Indoor Air Quality Meets System Performance

IAQ (Indoor Air Quality) expert, John Ellis of So Cal Air Dynamics, will share how you can deliver high-integrity HVAC systems, combined with IAQ solutions, to address your customer's unique needs. Learn what all the "buzz words" really mean and how to explain them to customers in an understandable way. Plus, John will discuss key performance indicators that must be monitored as well as how to tie HVAC system performance and IAQ together to grow your business.

---

You Too Can Sell High Performance HVAC ���
If You Just Do It!

In this session, $2-million-per-year comfort advisor, Eric Johnson of AC by Jay, will challenge you to check your preconceived notions at the door so you can learn a more thorough way to profitably resolve customer safety, health, comfort, and energy efficiency concerns. He will discuss both the importance of addressing the entire HVAC system and how to overcome your fears and "just do it" when it comes to offering, selling, and delivering high performance HVAC systems. This seminar will help get your high-performance sales machine properly firing on all cylinders.

---
Panel Discussion, High Performance Contracting: Overcoming The Hurdles To Implementation: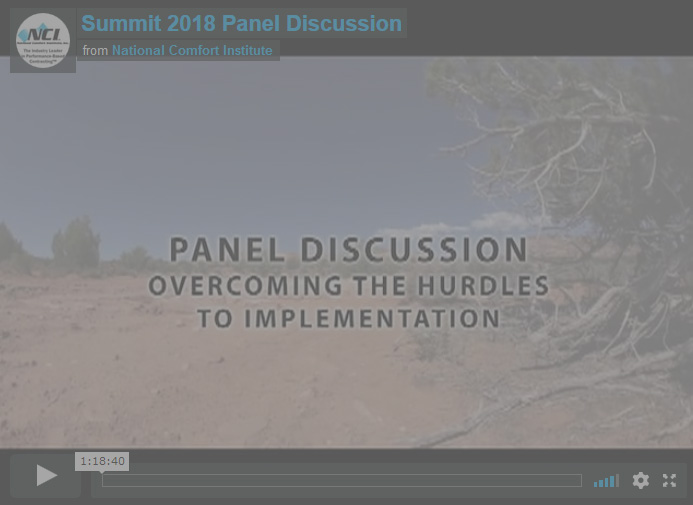 A Final Word From Rob Falke, NCI President:
The Annual NCI Award Winners: