NCI Literature
Below is quick access to downloadable PDFs about NCI training, events and products.
---
Airflow Testing & Diagnostics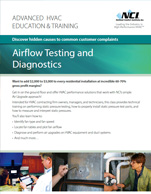 Want to add $2,000 to $3,000 to every residential installation at incredible 60-70% gross profit margins?
Refrigerant-Side Performance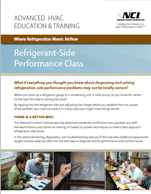 What if everything you thought you knew about diagnosing and solving refrigeration-side performance problems may not be totally correct?
Residential HVAC System Performance & Air Balancing
Want to set your HVAC service company apart from your competition? Are you ready to move beyond the SEER and AFUE trap?
Duct System Optimization & Air Balancing
Set yourself apart from competitors by knowing how to optimize a duct system so it delivers the heating and cooling the equipment was designed to provide.
Combustion Performance & Carbon Monoxide Safety
Deliver optimum combustion performance and keep your customers safe.
Commercial Air Balancing
This course helps equip HVAC professionals with the knowledge and tools they need to balance commercial HVAC systems up to 20 tons, including Kitchen Exhaust and Make-Up Air systems.
Commercial System Performance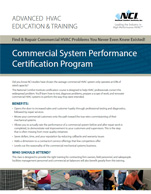 Find and repair commercial HVAC problems you never knew even existed!
Test & Certify Ventilation Systems and Economizers
Learn to effectively test, diagnose, and sell economizer and ventilation improvements.
Advanced Air & Hydronic Balancing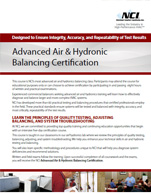 Learn the Principles of Quality Testing, Adjusting, Balancing, and System Diagnostics.
Performance-Based Selling™ Bootcamp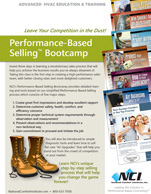 This course is the first step in creating a high performance sales team, with better closing rates and more delighted customers!
NCI Membership, Products, and Services

NCI Membership Brochure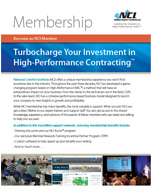 NCI Membership will help launch your company to new heights in growth and profitability through a cohesive performance-based business model, special discounts and a wealth of information.
ComfortMaxx™ Cloud-Based Software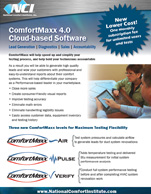 ComfortMaxx will help speed up and simplify your testing process, and helps hold your technicians accountable.