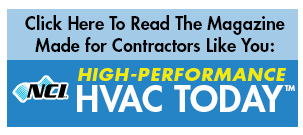 Want to learn more? Download these articles for free:
Why Performance-Based Contracting?
Home Performance Belongs to the HVAC Industry
Why System Performance Measurement Works
Sell "Total Cost of Ownership" and Win
Reducing CO Hazards with Additional Equipment Safety Measures
Upcoming Training & Events
View Training & Event Schedule
Welcome to National Comfort Institute
A Game-Changing Approach to HVAC Contracting
Discover the NCI Difference:

National Comfort Institute (NCI) offers an unparalleled approach to contracting that virtually guarantees you'll make more money while providing a better service to your customers. Throughout the past two decades, NCI developed a game-changing program based on High-Performance Contracting™, a method that will have an extraordinary impact on your business. From the owner to the technician out in the field, CSR's to the sales team, NCI has a cohesive High-Performance business model designed to launch your company to new levels of productivity and profitability.
What is High-Performance Contracting™?
A contractor who practices High-Performance Contracting™ delivers comfort, safety and energy efficiency with proven documented results. Through total system diagnostics, customers see their systems in a whole new light and understand the value of the services provided. The High-Performance Contracting™ approach teaches customers about their HVAC systems in simple terms, identifies real performance issues and plays a key role in differentiating one contractor from the next.
If you don't measure, you're just guessing™