Air Diagnostics Training Program
Performance-Based Contracting™ is changing the HVAC industry! Here at National Comfort Institute we believe in true measured performance beyond selling equipment alone. Our cutting-edge training programs have launched NCI Certified Contractors all over the country to new heights in performance and profitability.
Performance-Based Contractors deliver comfort, safety and energy efficiency with proven, documented results. Through Total System Diagnostics, customers see their system in a whole new light and understand the value of the service. This makes for a great lead generator and profit center for any HVAC business. Get NCI Certified today and outperform the industry!
Our hands-on training, tools and procedures will launch your business to new heights in performance and profitability. Generate profitable leads through our HeatMaxx™ and CoolMaxx™ testing. Offer cutting-edge services and outperform competitors in your market. Diagnose and solve HVAC system performance problems. Sell profitable duct renovation and equipment replacement. Measure real-time performance and prove true system efficiency. Make your heating installations safe and efficient and Much More!
Residential & Light Commercial Air Diagnostics & Balancing
HVAC System Performance Testing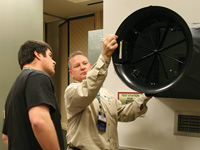 In this intensive day of training you'll learn to determine the actual Effective Efficiency of any functioning HVAC system. Learn and perform static pressure and temperature diagnostics that will improve your ability to identify the unseen causes of poor system efficiency and performance. Using NCI's exclusive HeatMaxx™ and CoolMaxx™ diagnostic reports, you can open your customer's eyes to a new dimension in system performance,while creating new sales opportunities for your business. This day is packed with practical hands-on exercises and diagnostic tools.
This class is a pre-requisite to Day 2 and Day 3
Nonmember Price: $255
Member Price: $240
HVAC System Diagnostics & Balancing
Building on the skills learned in HVAC Performance Testing, this class focuses on the next level of system diagnostics and rating. NCI's PerforMaxx™ testing will prepare you to take essential air property tests, including external static pressure, pressure drops, airflow traverses, and duct loss. You'll leave equipped with all the necessary testing skills, reference tables and charts, formulas, and engineering data to perform a comprehensive system performance rating report. System renovation sales, proposal writing, and pricing strategies will round out this day, ending with a
Residential Air Balancing certification
. Certification includes Wall certificate, Wallet certification card, and permission to advertise yourself as NCI Certified.
This class is a pre-requisite to Day 3
Nonmember Price: $405
Member Price: $385
Special Day 1, Day 2 Event Bundle
Advanced Diagnostics & Light Commercial Balancing
This third class in the program continues to build on the previous two days by adding advanced system diagnostic testing and interpretation methods. You'll learn practical fan law usage and field application techniques that will enable you to become certified for up to 25-ton equipment. NCI system redesign methods, balancing specification, and a sample submittal package are also included. Advanced airflow traverses, room-by-room airflow, and economizer and kitchen exhaust balancing round out this full day.
Advanced Diagnostics & Light Commercial Balancing
Special Day 1, Day 2, Day 3 Event Bundle
Light Commercial Certification Test

An optional Light Commercial certification exam is offered at the end of Day 3 for those desiring to add this endorsement to their residential certification. This exam is not included in Day 3 pricing. Both Day 1 and Day 2 must be successfully completed to enroll in this class.




Special Day 1, Day 2, Day 3 & LLC Event Bundle
Air Diagnostics & Balancing Recertification - Call for Pricing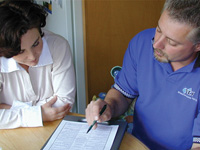 NCI's recertification training includes the very latest information on air diagnostics, including further understanding of tools and equipment and new forms and procedures to help you use your time efficiently.

NCI certifications are valid for 2 years. If you are coming up on expiration, please call NCI today to register for recertification at 800-633-7058. Our staff will go over options available to you.


Call 800-633-7058 for Recertification options
Upcoming Training & Events
View Training & Event Schedule
.