Grow Profitably with Airflow Upgrades Online Live
Register for this training now!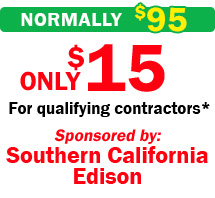 Delight Your Customers with Real Airflow Solutions
Typical air distribution systems lose an average of 43% of their efficiency because of poor design and installation. Your customers don't have to live with these substandard systems.
Now you can offer real solutions to provide the very best comfort, energy efficiency, and a safe and healthy indoor environment.

This two-hour online course helps attendees discover the many business opportunities associated with adding minor air duct system renovations to their residential HVAC service and replacement business.
Companies that have embraced this innovative approach report the following benefits:
Reduced customer complaints and warranty costs
Higher average replacement sales price and closing percentages
Improved customer delight, testimonials, and referrals
Increased job volume during mild-weather months
Who should attend?
HVAC Contractors, Salespeople, and Managers
Grow Profitably with Air Upgrades Online Live Overview
Section 1: Why Airflow Upgrades are Critically Important
Why do I need profitable growth?
What is an Airflow Upgrade?
Why are Airflow Upgrades so important?
Section 2: How Airflow Upgrades Improve Business Profitability
How can a 5-minute test generate leads?
How do Airflow Upgrades improve business?
How do I add this to my business?
Upon completion, you will receive a digital
Implementation Quick Reference Guide
with step-by-step instructions to assist in the successful integration of this powerful approach into your business. As bonus, you'll also receive NCI's
Total External Static Pressure Test Procedure
.
Grow Profitably with Airflow Upgrades Online Live
SCE Contractor Price: $95 $15*
*This special pricing is available exclusively for HVAC personnel, including facilities technicians, engineers,  HVAC and building performance contractors and their employees who service SCE customers. Your final registration is subject to verification for discount eligibility.
*In response to the COVID-19 Pandemic this class is available for a limited time at a discounted rate for qualified HVAC professionals.
Upcoming Training Events:
---