Residential Air Balancing Online Live Certification Program
Register for this training now!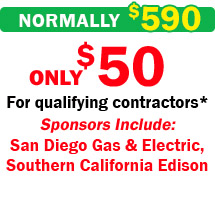 Once you're trained in Duct System Optimization and/or Residential HVAC System Performance, you can provide Certified Air Balancing on your installations with this additional day of training and online exam.
More and more HVAC and energy professionals are discovering the importance of testing and balancing their installations for maximum system comfort and efficiency.
Many building departments and utility programs now require balancing reports.
Your ability to air balance your customers' HVAC systems will keep you ahead of the competition!
Benefits:
Enhance your company's professional reputation with NCI's exclusive nationally recognized Residential Air Balancing certification and establish yourself in your marketplace as the true air balancing expert
Increase revenue and profitability by offering professional in-house balancing services at margins far above the average service and equipment replacement margins
Improve your ability to comply with new, tighter local, state and federal building codes and energy requirements
Reduce system performance issues and energy consumption while improving comfort, IAQ, and customer satisfaction
Establish yourself in your marketplace as a true airbalancing expert, and the go-to professional to solve long-standing problems
Set yourself apart in your marketplace as a true beyond-the-box HVAC expert, and the go-to contractor to solve long-standing problems
Unique HVAC Industry Certification
This online course features numerous hands-on demonstrations that include how to use the test instruments, proper testing locations, and live testing and interpretation of readings.
Prerequisites:
To qualify for the Residential Air Balancing training, student must hold a current NCI certification (or must be registered to complete a class and certification exam), in one of the following disciplines:
Duct System Optimization
Residential System Performance
Important: To qualify for NCI's Residential Air Balancing Certification designation, student must pass the online exam, and hold current a certification in one of the following disciplines:
Duct System Optimization
Residential System Performance
What you get:
8 hours of live online training over a 2-day period.
A printed workbook that allows you to follow the class and perform written exercises
A portable Field Reference Guide designed to help you perform field testing and diagnostics
Numerous downloadable materials including NCI's exclusive Test Procedures; Fan Performance and Duct Sizing Tables; Pre-balance checklist; Duct Traverse forms, charts, and procedures; Grille Correction Factors; Certification Letters; Test Instrument Spec Sheets; Manufacturers Engineering Data Locators; Air Balancing Report Forms; and more – 23 downloads in all!
By completing this class, you qualify to take NCI's Residential Air Balancing certification exam
Qualify for 8 NCI Continuing Education Units (CEUs) for recertifying one existing NCI certification (additional recertification fees apply).
Residential HVAC Air Balancing Online Live Training Program Overview
This training consists of two, 4-hour classes over 2 days
Introduction and Webinar Logistics
History and Purposes of Balancing
Airflow Traverse – Part 1
Airflow Traverse – Part 2 -

with hands-on demo
Preparing for System Balancing
Air Test and Balance Procedures -

with hands-on demo

Overcoming Balancing Obstacles
Final Testing and Documentation
Residential Air Balancing Training & Certification Fees
Regular Price with Certification Exam: $590
SCE & SDGE Service Territory Price: $50*
*This special pricing is available exclusively to HVAC professionals who work in Southern California Edison or San Diego Gas & Electric's service territory. Your final registration is subject to verification for discount eligibility.
Residential Air Balancing Certification:
Certification exams are offered online through our secure, proctored website. NCI certifications are valid for two years. Recertification is achieved with 8 hours of NCI continuing education.
Recertification:
Up to 8 NCI Recertification hours are also available with this class – Call Customer Care at 800-633-7058 to enroll in Recertification. CLICK HERE to view qualifying Recertifications for this class.

Recertification Training Fees: Recertification only with 8 hours of Residential Air Balancing training included: Just $50 per Recertification (A $395 value).
Continuing Education Credit
This class qualifies for Continuing Education Units (CEUs) for NATE and BPI recertification, and for licensing CEUs in several states. CLICK HERE To learn more.
Upcoming Training Events:
---