Duct System Optimization & Residential Air Balancing Certification


Duct System Optimization
Air Distribution Diagnostics & System Renovation
Register for this training now!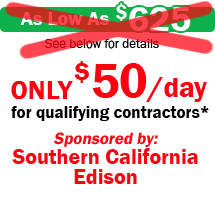 Test and Improve Poorly Performing HVAC Systems
Do you want to provide your customers the very best comfort and energy efficiency, as well as a safe and healthy indoor environment?

It's a known fact that typical air distribution systems across North America lose, on average, 43% of an HVAC system's efficiency.

Your customers don't have to live with these substandard systems. Now you can provide real solutions!


Learn how to deliver high quality, profitable duct system renovations that really work! Set yourself apart from competitors by knowing how to optimize a duct system so it delivers the heating and cooling the equipment was designed to provide. The process begins with a comprehensive evaluation of the existing duct system design, equipment sizing, followed by verification of real-time performance - not simulations.

You will then learn how to uncover air distribution upgrade opportunities to deliver the highest quality, comfort, and performance your customers want and are willing to pay for.
Unique HVAC Industry Certification
For the first time, the HVAC Industry has a certification that addresses the vital importance of ductwork in the overall performance of a mechanical system. By taking this class and passing the exam at the end of Day 2, you will earn the Duct System Optimization Specialist certification.
This is the only certification of its kind and once earned, will set you light years ahead of your competition. Add this to your company's portfolio of performance-based NCI certifications and deliver true system performance to all your customers.
NCI certifications are valid for two years. Recertification is achieved with 8 hours of NCI continuing education.
Duct System Optimization Program Overview
Introduction to Air Distribution Upgrade
Why you should upgrade a duct system
Three steps to uncover air distribution upgrade opportunities
Use static pressure to identify duct system restrictions
Determine fan capacity and fan airflow
How to generate customer interest
Show your customer how a balancing hood can help identify airflow issues in problem areas
How to create a floor plan and duct schematic
Document visible defects and needed changes
Establish airflow requirements
Estimate room airflow
Optimize the Duct System
How to use fan capacity and fan tables
Coil selection and filter sizing procedures
The importance of proper airflow
Debunk common airflow assumptions
Understand how air moves through duct
How to select the best duct fittings
Envision the ideal air distribution system
Duct renovation overview
How to select the right registers, grilles, and diffusers
Choose proper placement of registers grilles, and diffusers
Testing & Balancing Residential Systems
(Must have current Residential Air Balancing Certification or take the first 2 days of System Performance or Duct Optimization)
History and purposes of balancing
Measuring static pressure
Using a balancing hood
Performing an airflow traverse
Preparing for a balancing project
Setting fan airflow
Air test and balance procedures
Overcoming obstacles in the field
Final testing and documentation
Duct System Optimization Program Pricing
Duct System Optimization 2-Day Class and Certfication
Nonmember Price: $625
SCE Contractor Price: $100*
*This special pricing is available exclusively to HVAC professionals who work in Southern California Edison's territory. Your final registration is subject to verification for discount eligibility
Residential Air Balancing 1-Day Class and Certification
(Prerequisite: Duct System Optimization 2-Day)
Nonmember Price: $495
SCE Contractor Price: $50*
*This special pricing is available exclusively to HVAC professionals who work in Southern California Edison's territory. Your final registration is subject to verification for discount eligibility
Call 800-633-7058 for Registration Options
Duct System Optimization & Air Balancing Certification 3-Day Bundle
Nonmember Price: $995
SCE Contractor Price: $150*
*This special pricing is available exclusively to HVAC professionals who work in Southern California Edison's territory. Your final registration is subject to verification for discount eligibility
Duct System Optimization Recertification
Nonmember Price: $425
SCE Contractor Price: $50*
*This special pricing is available exclusively to HVAC professionals who work in Southern California Edison's territory. Your final registration is subject to verification for discount eligibility
Call 800-633-7058 for Recertification Options