Commercial System Performance Certification Program
Register for this training now!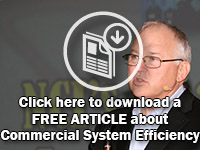 Find and repair commercial HVAC problems you never knew even existed!

Did you know NCI studies have shown the average commercial HVAC system only operates at 63% of rated capacity?

This NCI certification course is designed to help HVAC professionals correct this widespread problem. You'll learn how to test, diagnose problems, prepare a scope of work, and renovate commercial HVAC systems to perform the way they were intended.
Learn To Deliver Measured, Documented Performance!
This program will show you how to deliver true system performance. It also opens the door for greater opportunities for your company, including true differentiation, greater revenues, and higher profits to the bottom line.
Our practical field-based training will take you through how to measure, rate and improve the operating performance of the HVAC systems you design, sell, install, and service. First you'll learn how to assess the unseen properties of an HVAC system including airflow, temperature, pressure, and delivered BTUs. With this new knowledge, you'll find and repair problems you never even knew existed.
BONUS: Get NCI's exclusive Fan and Duct Sizing Tables, Fresh-Air Calculator, and a Manufacturers Engineering Data Locator at NO Extra Cost!
Commercial System Performance Program Overview
The Key Elements of HVAC System Performance
Review performance of a typical HVAC system
Overview of test methods and instruments
Examine static pressure measurement, diagnostics, and repairs
How to diagnose and prescribe pressure repairs to improve performance
Airflow measurement, diagnostics, and repairs
Air capture hoods and duct traverse methods
Temperature testing, diagnostics, and repairs
How to apply Fan Laws to identify and solve performance issues
Measure, Diagnose, and Improve Poor Performance
Equipment and system BTU calculations
System performance using delivered BTU
Field design guidelines and tools
Estimate required airflow and assess fan capacity
Evaluate low-pressure duct systems
Proper filter, coil, register, and grille selection
Commercial system renovation opportunities
Identify and prescribe typical repairs
Prioritize and communicate needed renovation work to customers
The day concludes with NCI's exclusive Commercial HVAC System Performance certification exam.
Commercial System Performance with Certification Program Pricing
Nonmember Price: $625
Member Price: $595
NCI Members

Earn $30 NCI Bucks!


Learning Excellence Program Subscribers

Earn $89 NCI Bucks!
Average Class
Attendee Rating
Average Knowledge Increase
Pre Knowledge

Post Knowledge
---
Upcoming Training & Events
View Training & Event Schedule
.