Combustion Performance & Carbon Monoxide Safety Training
Register for this training now!

Without conducting full combustion and carbon monoxide (CO) diagnostics, there is no way of knowing whether an HVAC system is safe or efficient. Get the technical knowledge you need to improve customers' system performance, prevent carbon monoxide (CO) hazards, and increase profitability. Then use that knowledge to perform combustion performance and safety tests.
Top 10 Skills You Will Learn By Taking This Class
Measure ambient carbon monoxide levels
Learn the corrective actions to take based on ambient carbon monoxide levels
Identify common sources of carbon monoxide
Determine proper combustion and draft test locations
Measure carbon monoxide, oxygen, and temperature in flue gas
Measure draft pressure
Determine field-measured performance and efficiency of installed equipment
Accurately measure equipment and system temperatures
Uncover and identify specific mechanical defects
Discuss potential repairs and adjustments to improve safety and efficiency
Combustion Performance & CO Safety Program Overview
Carbon Monoxide Safety Testing & Diagnostics
Introduction to combustion performance
Proper combustion testing locations
Using safety and combustion test instruments
CO sources, levels, and protocols
NCI Combustion Performance Standards
Effects of combustion issues effect efficiency
Field-measured efficiency
How to diagnose fuel and mechanical problems
Combustion Performance & Diagnostics
Troubleshooting combustion air problems
Draft testing
Diagnosing venting problems
Seven common diagnostic issues
How to use the combustion troubleshooting chart
Combustion diagnostic procedures and reports
Combustion repairs, adjustments, and upgrades
Makeup air sizing and systems
CO/Combustion Review & Certification
Natural draft water heat repairs & adjustments
Induced draft furnace repairs & adjustments
Condensing furnace repairs & adjustments
Natural draft boiler repairs & adjustments
Hands-on exercises
You'll also complete a written certification exam to confirm your knowledge of combustion procedures and CO safety. Those successful in passing this exam receive a
Carbon Monoxide & Combustion Analyst Certification
valid for two years. This is the most recognized certification of its kind in the industry.
Combustion Performance & CO Safety Program Pricing
Combustion Performance & CO Safety 3 Day Training Prices:
Nonmember Price: $835
Member Price: $795
NCI Members

Earn $40 NCI Bucks!


Learning Excellence Program Subscribers

Earn $119 NCI Bucks!
Carbon Monoxide & Combustion Recertification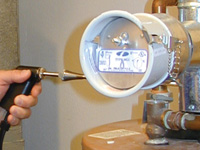 NCI's recertification training includes the very latest information on CO Safety & Combustion, including further understanding of tools and equipment and new forms and procedures to help you use your time efficiently.
NCI certifications are valid for 2 years. If you are coming up on expiration, please call NCI today to register for recertification at 800-633-7058. Our staff will go over options available to you.
Recertification: Combustion Performance & CO Safety 1 Day Training Prices:
Nonmember Price: $425
Member Price: $405
NCI Members

Earn $20 NCI Bucks!


Learning Excellence Program Subscribers

Earn $61 NCI Bucks!
Call 800-633-7058 for Recertification Options
Average Class
Attendee Rating
Average Knowledge Increase
Pre Knowledge

Post Knowledge
---
Upcoming Training & Events
View Training & Event Schedule
.
Testimonials
"I loved the class on carbon monoxide and combustion analysis . I truly enjoyed it and it was honor to have been in your class."

-Dave Fonda, Senior Mechanic, County Fair Air Conditioning
---
"The NCI classes I took were very informative to me. CO is no joke! "

- Ron Warren
Technician, Davis Services, Inc.

---