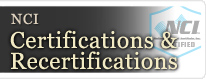 NCI's High Performance HVAC Summit 2019
Keep an eye on your email and GoToSummit.com for the latest info!
Be sure to mark your calendars for Summit 2019 in Orlando, Florida at the beautiful Wyndham Orlando Resort. You can use the links on the left hand menu to take a look back at previous Summits.
Upcoming Training & Events
View Training & Event Schedule