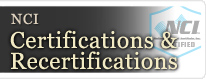 3 Ways to Register: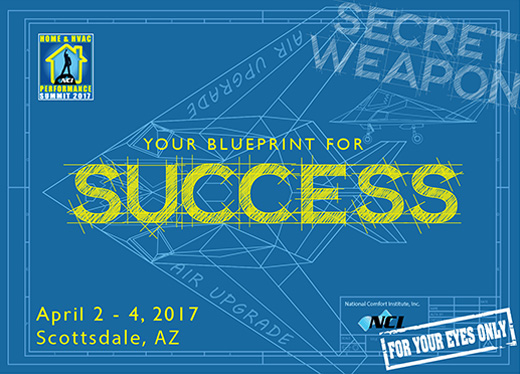 Your Blueprint for Success
Is Performance-Based Contracting a profitable part of your business?

Have you had some success but want more?
It's hard to build a home without a blueprint even if you have all the right skills and materials.
Join us at Summit 2017 to customize your personal blueprint for success with Airflow Upgrades. Get the plans and tools you need to sell and deliver these important solutions to your customers. This first step is your secret weapon to make Performance-Based Contracting the Cornerstone of your business.
Learn how to ...
Make Airflow Upgrades a unique product you design and deliver
Build and sustain a culture of testing in your company
Generate year-round leads with airflow testing
Use ComfortMaxx software to turn testing into cash
Price, propose, and schedule upgrade projects
Communicate the value of your new product to customers
Profitably install airflow upgrades.
Contractor Panel Discussion
---
Be sure to attend this year's panel focused on implementing Air Upgrades in your business. Each panelist will share their successes and how they overcame obstacles to making this approach part of their culture.
Featured in our Contractor Panel Discussion:
John Boyland, Lakeside Service Company
Will Horner, Canco Climate Care
Don Steward, W. B. Steward & Son
John Ellis, So Cal Air Dynamics
Mike Greany, All Pro Plumbing, Heating & Air
Charlie Dieringer, Air Force One Heating & Air
---
NCI Idea Meeting
---
Attendees have the opportunity to join fellow contractors and share their latest and greatest ideas AND have a chance to win CASH prizes!
All contractor attendees are invited to present their ideas. ALL participants were winners, whether they choose to present an idea or not, as they benefitted from hearing all of the ideas shared in this learning environment!
TAKE LOTS OF NOTES!
The Idea Meeting this year is divided into three consecutive sessions, each taking about 30 minutes. Each session focuses on one of the following categories:
Lead Generation
,
Sales Approach
and
Product Delivery
– The key elements of your success in Home and HVAC Performance. Contractors present their best ideas on company practices, marketing, departmental processes, etc., in each of these categories!
This high-energy meeting is a perfect chance to hear fresh ideas from other successful contractors. It certainly stimulates additional conversations between peers.
The $20 cash entry fee, per attendee, is used to reward presenters of the best ideas!
Three First Place Winners, one from each category
, are voted on by all attendees in the Idea Meeting.
All cash collected from entry fees are split among the winners!
---
Member Rewards Reception and Tradeshow
---
Our Member Rewards Partners help make your membership and this conference possible. Show your appreciation by attending the trade show events. Who knows? You might find that next great product or idea!
---
Awards Banquet
---
This long-standing tradition is one of the highlights of every Summit. Join us in honoring the best of the best NCI members. You never know - you may be one of them.
At past Summits you told us you wanted to be able to attend all sessions, and we listened.
This year attendees will travel through each of six workshops in groups so they get a chance to attend
every
session.
Turn Static Pressure Testing into Cash
Learn how ComfortMaxx Air™ can capture critical system vital statistics and generate easily understood solutions that don't require high pressure sales. After the sale and solutions are applied, ComfortMaxx Air verifies your work – something few competitors can do!
Presented by Contractor John Boylan and NCI's David Richardson.


Generate Leads Year-Round
If you don't gather the information, system defects remain invisible and you cannot sell needed system upgrades. This duo will demonstrate to turn static pressure readings into current and future leads.
Presented by Contractor Will Horner and NCI's Brad Higgins.


Air Upgrades: Your Secret Weapon
This exciting new product can be applied by contracting firms of any size, using service technicians, selling technicians, or salespeople — you decide how it best fits in your company! Learn how to apply renovation options — one piece at a time — using Air Upgrades as an initial step to solve customer comfort concerns.
Presented by Contractor Don Steward and NCI's John Puryear.


How To Install Air Upgrades
This session will focus on how to install the most effective Air Upgrades to overcome fan airflow obstacles. Learn how to recognize and fix system defects including restrictions caused by poor installation practices, high pressure drop coils and filters, undersized duct systems, and inadequate fan capacity. Learn how to create a scope of work so your Air Upgrades achieve maximum results.
Presented by Contractor John Ellis & NCI's Jeff Sturgeon


How to Build & Sustain a Culture of Testing
Learn how to build an enthusiastic culture of testing, starting with leadership and continuing throughout the entire company. With the info from this workshop, you can build a fire within your company that will lead to a generation of passionate leaders at every level.
Presented by Contractor Mike Greany and NCI's Rob Falke.


Price & Propose Profitable Air Upgrades
This workshop will focus on providing you tips on how to price, propose, and close more Air Upgrade sales and achieve year-round profitability. Add Air Upgrades to your proposals and installation schedules. BONUS: Learn how to price your work more accurately and profitably using NCI's exclusive Air Upgrade Price Calculator.
Contractor Charlie Dieringer and NCI's David Holt


Time
Event
10:00 AM - 2:00 PM
Annual Golf Outing
3:00 - 5:30 PM
Registration Open
4:00 - 5:30 PM
Making the Most of Your NCI Membership Meeting
6:00 - 8:00 PM
Welcome Reception Party
6:30 AM - 3:00 PM
Registration Open
7:30 AM
Breakfast
8:00 AM
Opening Session with NCI CEO, Dominick Guarino
9:00 - 10:15 AM
Breakout Session I - Workshops
10:30 - 11:45 AM
Breakout Session II - Workshops
11:45 - 1:00 PM
Luncheon Sponsored by RE Michel
1:00 - 2:15 PM
Breakout Sessions III - Workshops
2:30 - 4:45 PM
Idea Meetings: Lead Generation, Sales, Product Delivery - Now Open to All!
5:00 - 7:00 PM
Trade Show Reception with NCI Member Rewards Partners
7:30 - 8:30 AM
Breakfast 

Sponsored by Goodman Manufacturing

8:30 - 9:45 AM
Breakout Sessions IV - Workshops
10:00 - 11:15 AM
Breakout Sessions V - Workshops
11:15 AM - 1:15 PM
Member Rewards Vendor Exhibits and Luncheon
1:15 - 2:30 PM
Breakout Sessions VI - Workshops
2:45 - 3:15 PM
General Session: Idea Meeting Winners and Prize Drawing
3:15 - 4:45 PM
Panel Discussion: Making Performance Work In My HVAC Company
4:45 - 5:15 PM
Closing Remarks from NCI President, Rob Falke
6:00 - 7:00 PM
Member Appreciation Reception
7:00 - 9:00 PM
Dinner & Awards Presentation Ceremony
8:00 AM - 4:00 PM
Residential Airflow Testing & Diagnostics (Recertification)
8:00 AM - 4:00 PM
Advanced Combustion/CO Diagnostics (Recertification)
8:00 AM - 4:00 PM
Implementing Airflow Testing and Diagnostics - Day 1
8:00 AM - 4:00 PM
Implementing Airflow Testing and Diagnostics - Day 2
We-Ko-Pa Resort & Conference Center
10438 North Fort McDowell Rd
Scottsdale, AZ
1-480-789-5300
Mention group code "NCIA Block" to receive our special group rate of $179/night.
Upcoming Training & Events
View Training & Event Schedule