Why NCI Membership?
Turbocharge your investment in Performance-Based Contracting™

National Comfort Institute (NCI) offers a unique membership experience you won't find anywhere else in the industry. Throughout the past two decades, NCI has developed a game-changing program based on Performance-Based Contracting™, a method that will have an extraordinary impact on your business. From the owner to the technician out in the field, CSR's to the sales team, NCI has a cohesive performance-based business model designed to launch your company to new heights in growth and profitability.
What is Performance-Based Contracting™?
A contractor who practices Performance-Based Contracting™ delivers comfort, safety and energy efficiency with proven documented results. Through total system diagnostics, customers see their systems in a whole new light and understand the value of the services provided. The Performance-Based Contracting™ approach teaches customers about their HVAC systems in simple terms, identifies real performance issues and plays a key role in differentiating you from your competition.
Top Notch Training
As an NCI Member, you'll have access to cutting-edge training and certification programs from the technical, business, and sales and marketing perspectives. You'll also have access to great online training to help you prepare for certification training, and keep your skills sharpened after you've been trained and certified.
It's All About You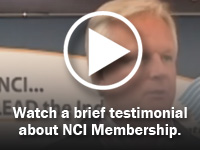 Your membership provides access to virtually every benefit NCI offers – some are included and other available at discounted pricing. Just take a look at the menu of available benefits and select those that are best for you and your company.
Unparalleled Support
Call us from the field, from your office or wherever you need help. The NCI Member Support line (800-633-7058) is staffed from 8am – 5pm (ET), Monday through Friday. During those times, members have unlimited access to NCI's technical, business, and sales and marketing knowledge leaders who provide assistance in a friendly and timely manner.
You've invested in NCI Performance-Based training, certification, tools, and instruments. Now what? NCI membership is the natural next step that helps you stay on top of new methods and processes to keep your company on the right path to becoming a Performance- Based Contractor.
Get all the following benefits for only $100/month!
Live Support, Lead Generation, Software

ComfortMaxx™ Air

Cloud-based airflow testing software for all your certified employees. Unlimited users and tests. $95/month value.

Unlimited Toll-Free Support (800-633-7058)

(800-633-7058) Mon. – Fri., 8 AM to 5 PM EST, NCI support is available in all areas of your company: technical, marketing, sales, or business.

Find a Certified Professional Lead Generator

On NCI's exclusive consumer site (www.myhomecomfort.org). This includes premium listing containing contact information, certifications held, website link, services offered, and market area served.

PerformanceTalk™ Email Discussion Group

This group has the combined wisdom of more than 2,000 member participants. Ask a question, get help, offer advice, and find out what other members think on any given subject.

Downloadable Tools and Knowledge Libraries

i-NCI Tools and Applications

Featuring digital sales and technical tools optimized for tablets and smart phones. Our Home Comfort Analysis and other i-NCI specialized tools are available only to NCI members.

Technical Forms, Procedures and Tools Library

Download the latest forms, charts, how-to procedures, as well as manufacturers' engineering data.

Sales and Marketing Downloads Library

Members can download direct-mail pieces, consumer sales literature, advertising campaigns, and much more. All are easily customizable with your company logo and editable fields.

Newsletters with Years of Archives

Monthly e-mail newsletters packed with technical, sales, business, and marketing articles written by NCI experts. Also includes highlights of latest downloads, training schedule, upcoming events, and more.

Article Library

Members can access a searchable database of hundreds of informative articles covering technical and business topics.

Discounts and Rebates

Live and Online Training Discounts

Get 5% off live training and certification. Save even more with online training.

Member Rewards Training Incentive Partner Program

Earn training incentives, receive discounts, and take part in exclusive purchasing programs with our vendor partners. Your savings alone can easily pay for your membership.

ContractorsIMAGE™ Marketing Services Discounts

Quality, knowledge, and performance-based themed marketing pieces and forms set ContractorsIMAGE apart: All at special, discounted prices for members. Members also earn NCI training bucks on all purchases.

Conference and Event Discounts

Members qualify for discounts toward all meeting and training registrations, including NCI's annual Summit.

NCI Training Bucks Program

Earn 5% in NCI bucks on training, conferences, and marketing/print service purchases. Use bucks toward training and events. They never expire!! They carry over year-to-year with NO penalties. NEW: Pre-purchase additional NCI bucks at a 5% discount once per year. Ask us how!

Click

here

to find out more about NCI Training Bucks.

NCI Online Store

Members receive a minimum of 2% discount on all items in the NCI store.

Optional Upgrades
Upgrade to ComfortMaxx Pulse™

Airside and delivered BTU Testing – Add $50/month

Upgrade to ComfortMaxx Verify™

Full System Testing at Equipment and Registers – Add $100/month
Learning Excellence Membership Subscription - Just $450/Month!
Get much more with this value-packed bundle
Full membership benefits (listed above)
NCI University Learn 24/7 Program with unlimited online training for all employees
Upgraded subscription to ComfortMaxx Pulse™ cloud-based software with unlimited access for all employees ($145/month value)
$100 in NCI Training Bucks added to your account with each monthly payment.
Premium level Member Rewards Program with additional rebates
Earn 15% in NCI Bucks on all training and meeting or conference purchases
Optional Upgrade

Upgrade to ComfortMaxx Verify™

Full System Testing at Equipment and Registers – Add $50/month
Join NCI Today!
Joining NCI is as easy as 1,2,3.
Request your application by calling 800.633.7058
Complete and sign the application
Fax it to 866.295.1325 or email it to Membership@ncihvac.com
Once we receive and approve your application we will send you a membership welcome packet and schedule a member on-boarding meeting. Once approved you will also be able to add employees to your account.
Upcoming Training & Events
View Training & Event Schedule
.