Why NCI Membership?
Turbocharge your investment in Performance-Based Contracting™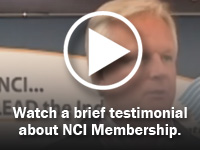 National Comfort Institute (NCI) offers a unique membership experience you won't find anywhere else in the industry. Throughout the past two decades, NCI has developed a game-changing program based on Performance-Based Contracting™, a method that will have an extraordinary impact on your business. From the owner to the technician out in the field, CSR's to the sales team, NCI has a cohesive performance-based business model designed to launch your company to new heights in growth and profitability.
What is Performance-Based Contracting™?
A contractor who practices Performance-Based Contracting™ delivers comfort, safety and energy efficiency with proven documented results. Through total system diagnostics, customers see their systems in a whole new light and understand the value of the services provided. The Performance-Based Contracting™ approach teaches customers about their HVAC systems in simple terms, identifies real performance issues and plays a key role in differentiating you from your competition.
Top Notch Training
As an NCI Member, you'll have access to cutting-edge training and certification programs from the technical, business, and sales and marketing perspectives. You'll also have access to great online training to help you prepare for certification training, and keep your skills sharpened after you've been trained and certified.
It's All About You
Your membership provides access to virtually every benefit NCI offers – some are included and other available at discounted pricing. Just take a look at the menu of available benefits and select those that are best for you and your company.
Unparalleled Support
Call us from the field, from your office or wherever you need help. The NCI Member Support line (800-633-7058) is staffed from 8am – 5pm (ET), Monday through Friday. During those times, members have unlimited access to NCI's technical, business, and sales and marketing knowledge leaders who provide assistance in a friendly and timely manner.
You've invested in NCI Performance-Based training, certification, tools, and instruments. Now what? NCI membership is the natural next step that helps you stay on top of new methods and processes to keep your company on the right path to becoming a Performance- Based Contractor.
Get all the Member Benefits for only $100/month!
Upgrade to ComfortMaxx Pulse™

Airside and delivered BTU Testing – Add $50/month

Upgrade to ComfortMaxx Verify™

Full System Testing at Equipment and Registers – Add $100/month
Upcoming Training & Events
View Training & Event Schedule
.